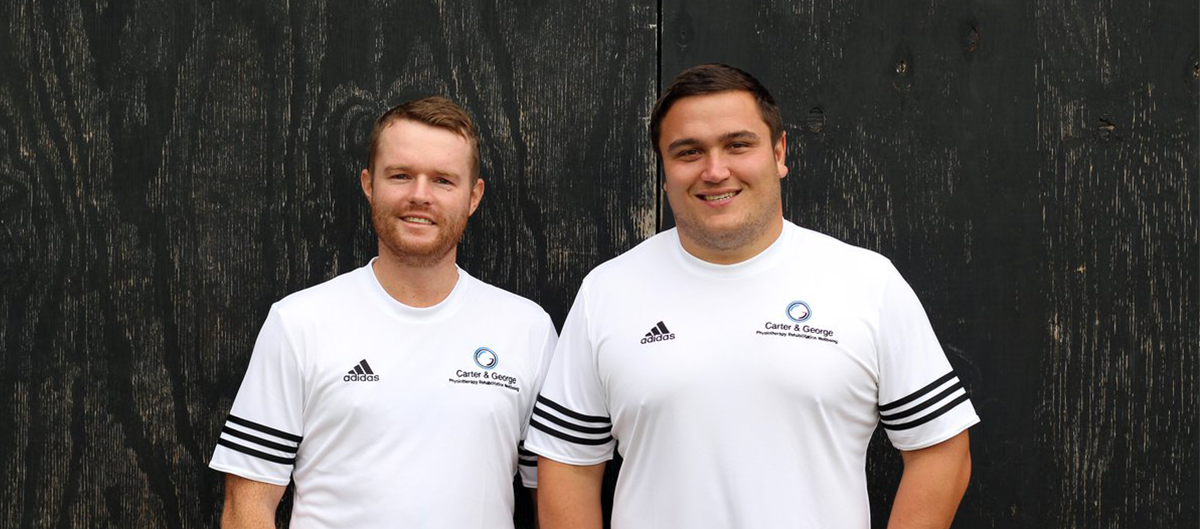 Treatment of recalcitrant chronic plantar fasciitis with combination therapy
Tendinopathies are an important topic in the practice of professional sports. This type of pathology must be treated quickly in order not to compromise the physical performance of the athletes. Sometimes these tendinopathies persist over time despite the treatment efforts made by the care teams. They then become chronic and can jeopardize the career of the athlete who has no choice but to live with the pathology and then eventually cause other functional problems.
Jamie George's testimonial on the treatment of his chronic plantar fasciitis
Before being treated with the combination therapy, Jamie George suffered from a chronic plantar fasciitis which affected him on a daily basis, both during his professional and everyday life.
"I have suffered with heel pain for approximately 2 years – mainly caused by constant training and playing on a firm surface with Saracens. When I came to the clinic, an initial consultation took place with Rhys – who confirmed the diagnosis of plantar fasciitis on an ultrasound scan.  He suggested we treated it with Shock Wave therapy (which I have had before), but he also suggested the use of laser prior to it. 
Alongside a stringent stretching and strengthening program, devised by our strength and conditioning team at Saracens, I had 4 sessions of Laser and Shock Wave treatment – each separated by a week.
By the end of the 4th week, I had experienced a 60% improvement in pain, particularly after training and first thing in the morning. I continued the strength training for another month and would estimate a 95% recovery now, with only mild discomfort after a game on an artificial pitch.
This used to cause so much pain that I would limp. I would thoroughly recommend the DolorClast® Laser and Radial Shock Waves treatment for any particularly stubborn injuries, and I know where to go if my pain ever returns.
How Rhys Carter treated the pathology thanks to the combination therapy
Jamie George attended Rhys Carter's clinic reporting right heel pain for over 2 years. On objective examination, there was point tenderness over the insertion of the plantar tendon and there was evident tendinopathic changes in the plantar tendon on diagnostic ultrasound, in keeping with plantar fasciitis.
Once the diagnosis was given to Jamie, it was explained that this injury can take up to 3 months to recover. Rhys Carter explained that this would be a combination of the new GDT protocol (explained to him as Laser and Shock Wave combination therapy) and a progressive strengthening program to be done in conjunction with his strength and conditioning coaches at his club.
 
To carry out the treatment according to the GDT protocol, Rhys Carter used the new DolorClast® Radial Shock Waves and the new DolorClast® High Power Laser in combination. He used the DolorClast® High Power Laser on the analgesic setting of 3 minutes, 60KHz, 75% modulation and a manual setting. Afterwards, he was able to use 2.8 Bar of pressure, 10Hz and 2000 impulses on the DolorClast® Radial Shock Waves. It is interesting to note that Jamie was able to tolerate just 2.0 Bar of pressure without a Laser treatment before the Shock Wave therapy.
Regarding exercise, Rhys Carter worked closely with the Saracens strength and conditioning coaches and devised a series of 'short foot' intrinsic foot strengthening exercises, eccentric soleus strengthening and calf stretching. He also recommended gentle rolling of the arch of the foot with a tennis ball.
After 10 years of using Shock Wave therapy, I would thoroughly recommend the additional use of the DolorClast® High Power Laser as an analgesic. - Rhys Carter, physiotherapist

The combination of the Laser and Radial Shock Wave therapies gave exceptionally good results. Jamie reported a continuous improvement in symptoms and once he started to feel no pain after training/matches and no pain in the morning when bare foot walking after 8 weeks, they stopped treating him as the initial problem had resolved. Having used the DolorClast® High Power Laser in analgesic mode, Rhys Carter can confirm that the tolerance level of higher pressured Radial Shock Wave therapy is greatly increased, which has generated faster results.
We thank Rhys Carter for conducting this case study highlighting the potential of combination therapy with the new DolorClast® products, which also allowed the rugby player Jamie George to return to the field with a full confidence.
Why is the combination therapy effective in the treatment of plantar fasciitis?
DolorClast® High Power Laser
When designing the DolorClast® High Power Laser, the wavelength of 905 nm was specially chosen because it inhibits the nociceptors1.
Nociceptors are sensory neurons located at the nerve ending, that respond to potentially damaging stimuli by sending pain signals to the spinal cord and the brain. If they are inhibited, they will not send a signal and the patient won't therefore feel pain anymore.
This powerful analgesic effect is already evident 5 minutes after the end of the treatment and lasts for up to 72 hours after the treatment.
1MEZAWA, S. et. Al, Archives of oral biology, 1988, vol. 33,9.
DolorClast® Radial Shock Waves
Shock wave therapy allows the expression of growth factors (PCNA, eNOS VEGF)1, making allowing for the formation of new blood vessels (angiogenesis) in tissues with blood supplies. This increased blood circulation fosters a faster healing of the treated tissues1.
Moreover, shock wave therapy activates mesenchymal stem cells2, which increases the formation of new cells for the regeneration of the injured tissues.
1HOFMAN et al., J Trauma / CONTALDO ET AL., Microvasc Res 2012, 84:24:-33 / KIRSCH ET AL., J Surg Res 2016; 201:440-445
2WANG CJ, ISMST Newsletter 2006, Vol 1, Issue 1
Related products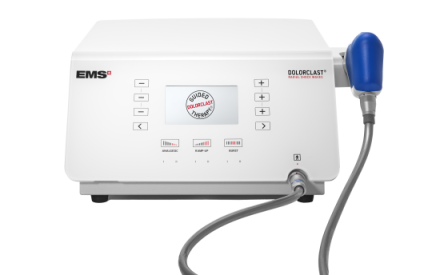 To address superficial sub-acute or chronic musculoskeletal pathologies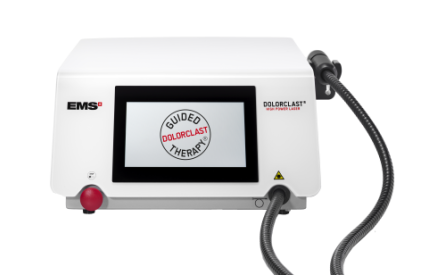 To address superficial or deep indications, acute pain and reduce inflammation