Sports doctors symposium 2019

FABIAN HAMBÜCHEN REFLECTS ON HIS CAREER FROM A MEDICAL PERSPECTIVE
Fabian Hambüchen is famous for having received a full set of Olympics medals, one in each color on the individual horizontal bar event, improving his standings every subsequent four years from a bronze medal at the 2008 Beijing Olympics, then a silver medal at the 2012 London Olympics, and finally to the gold medal at the 2016 Rio Olympics. Without the expert help of his medical team it wouldn`t have been possible to participate in three Olympic events, something unusual for the taxing career of a gymnast. For Hambüchen, his career included a torn ankle ligament, a torn Achilles tendon and a torn supraspinatus muscle, just to name a few.
Therefore, it was worthwhile to listen to his hard lessons learned on how to stay medically fit:
Do lots of preventative training: As a gymnast, his focus was always on creating a crazy-strong chest. And that worked well until the Olympic games in Beijing, where he battled with many back problems. Now being retired from professional sports, he pays the price and notices his back problems every time he steps out of a car, for example. Therefore, he advises to do an equal amount of dorsal exercises.
Keep a good mental health: In 2008, he traveled to Beijing as reigning World Champion and was expected to win Gold. However, the expectations defocused him, he slipped and "only" placed 3rd. His disappointment was so great that he overcompensated with even more exercise and ended up seriously injuring himself multiple times afterwards. What won him the gold medal in 2016 was not just physical strength, but also mental strength. He was unable to train for three months due to a torn supraspinatus muscle and only reentered training three weeks before the Olympic Games in Rio de Janeiro. Years of mental training paid off to not let the injury get into his mind and focus on the big goal – and achieve it.
Improve your nutrition: His advice was to not experiment too much. Everybody reacts differently to nutrition and with so much advice available, it is best not to try out too many different things. He once reduced his diet to a bare minimum, mostly salad, to achieve a desired weight, but then needed over a year to recover back his full strength.
Image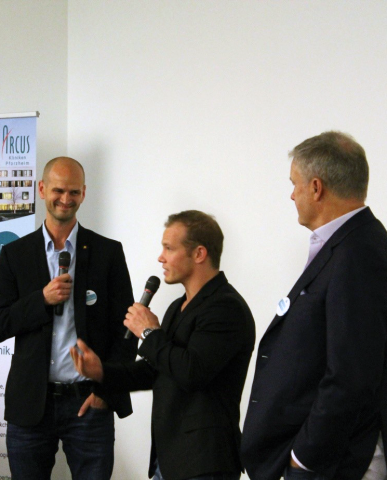 During questions and answers, he was asked how a sports doctor can convince young athletes to follow their advice. He recommended to not just present yourself as one single doctor, but as a team. Hambüchen commented that as an athlete, he was inclined to just follow his coach's advice for the training improvement. But in fact, there was also the mental coach, the nutrition experts and many other more. For example, after a workout, the body needs the rest and as a young athlete, there are still so many other things in your mind that keep you from going to bed. He was convinced 1000% that it takes a whole team for changing such a routine.
UPDATE ON JUMPER'S KNEE TREATMENT
Being diagnosed with a jumper`s knee, also known as patellar tip syndrome, is a patellar tendinopathy and feared by athletes because of its long treatment duration: one third of treated athletes doesn't return to sport within six months. On top of this, there are many athletes that can`t return to their sport at all, especially in jumping sports such as volleyball and basketball.
During the symposium, Dr. Henning Ott gave an overview of the therapy methods by highlighting the latest standard of care. Patellar tendonitis calls for differentiated therapy. Treatment should start conservatively, including temporary adaptations training, progressive loading exercises as well as the elimination of the underlying disbalances and functional deficits. Additionally, extracorporeal shock wave therapy (ESWT) is nowadays commonly applied, as both radial and focused shock waves demonstrate good results. There is sufficient scientific evidence to prove that a conservative therapy in combination with ESWT is better than without in the short-, medium- and long-term.
Cortisone injections however have been dismissed as a treatment option. Overall, there are no consistently good results and there is also a high risk that the cortisone will cause the patellar tendon to rupture. In fact, Dr. Ott mentioned that nowadays there is not one indication remaining where cortisone injections are still needed. Essentially, this treatment is outdated and should be replaced. However, an injection with PRP or hyaluronic acid have proven to achieve good results, although they are quite painful for the patient.
Image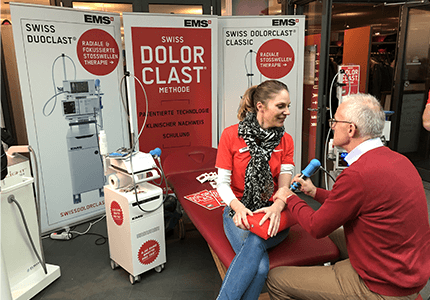 Image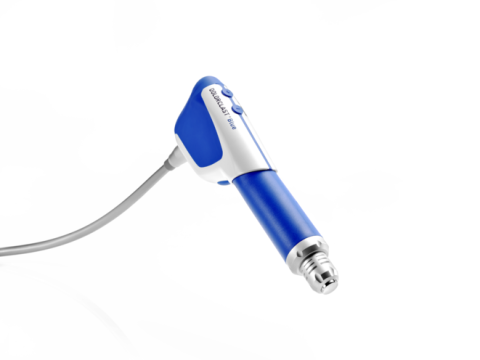 Image