Pathology
In former times the condition was usually named medial epicondylitis. However, the pathology is no longer thought to be inflammatory. Nowadays the accurate description would be "partially reversible but degenerative overuse-underuse tendinopathy". Because of the complexity of this description, the term " Golfer's elbow " is usually used.
The anterior forearm contains several muscles that are involved with flexing the digits of the hand and flexing and pronating the wrist. The tendons of these muscles come together in a common tendinous sheath, which originates from the medial epicondyle of the humerus at the elbow joint. In response to a minor injury, or sometimes for no obvious reason at all, this point of insertion becomes inflamed.
The initial treatment should be conservative including rest, physiotherapy, and nonsteroidal anti-inflammatory drugs. As in the case of chronic Achilles tendinopathy and chronic plantar fasciopathy, eccentric (lengthening only) exercises have become the mainstay of rehabilitation programs for tennis elbow.
In most circumstances, cortisone injections should not be used. This is due to the fact that cortisone leads to very good results in the short term (six weeks) but has been demonstrated to be harmful in the longer term (more than three months). Surgery should be considered when conservative treatment fails.
An attractive alternative for the golfer`s elbow treatment is radial shock wave therapy.
Side effects of Radial Shock Wave Therapy (RSWT) using the Swiss DolorClast®.
When performed properly, RSWT with the Swiss DolorClast® has only minimal risks. Typical device-related non-serious adverse events are:
Pain and discomfort during and after treatment (anaesthesia is not necessary)
Reddening of the skin
Petechia
Swelling and numbness of the skin over the treatment area
These device-related non-serious adverse events usually disappear within 36h after the treatment.
Locate the area of pain through palpation and biofeedback.
Apply coupling gel to transmit shock waves to the tissue.
Deliver Radial or Focused Shock Waves to the area of pain while keeping the applicator firmly in place on the skin.
Clinical proof
Practitioner?
Get information on the diagnosis, the functioning of shock wave therapy, clinical proof, contraindications, etc.
Discover our products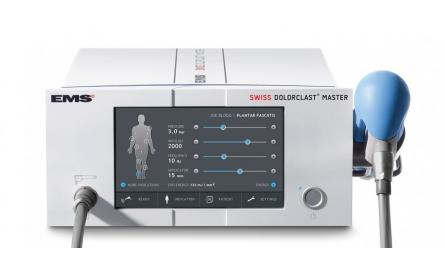 The solution in radial shock wave therapy.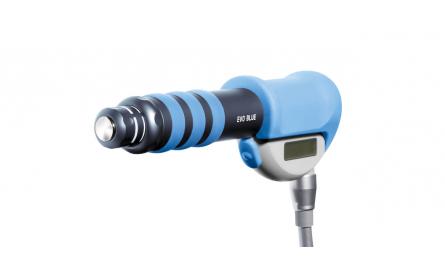 The only constant energy shock wave handpiece on the market.