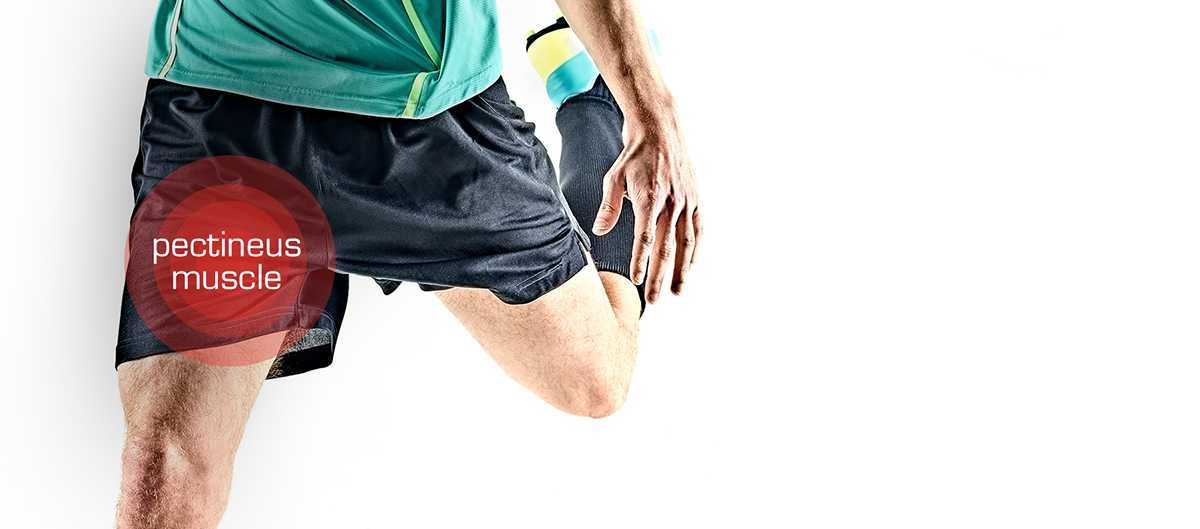 Adductor-related groin pain
Key player - pectineus muscle
The muscle involved in the vast majority of football-specific movements is the pectineus muscle. Its primary function is hip flexion, but the muscle also participates in adduction and internal rotation of the thigh and serves as a relevant pelvic stabilizer in the supporting leg. Considering pectineus' anatomical location and everyday exposure to weight load, it has a fundamental role in the development of inguinal musculoskeletal disorders and therefore plays a crucial role as a therapeutic main target.
 
Treatment of groin region disorders - choose waves over needles
Relief in pain, tenderness and muscle strain are generally considered as desired targets of the treatment. One of the possible therapy approaches that is both fast acting and effective is a local trigger point therapy, known as dry needling. However, it requires using special acupuncture needles which make this procedure minimally invasive. Additionally, in many countries special education or certification is required to carry out dry needling. 
On the other hand, extracorporeal radial shock waves therapy (rESWT) is a non-invasive alternative that can also lead to successful recovery. It is advisable to target the whole crucial muscles (not only their insertions) with extracorporeal shock waves. In contrast to trigger point therapy which involves applying pressure on sensitive points in your muscles (trigger points) in order to relax the muscle and affected tissues. Read more about myofascial trigger point therapy: https://www.ems-dolorclast.com/indications/myofascial-trigger-points 
An example protocol from treating a professional football player from the German 1st football league muscle with the use of rESWT includes sessions every 2-3 days, using radial shock waves with medium intensity (EMS Swiss DolorClast®️, 1.5–2.0 bar, 2500-4000 pulses). According to practical experience, limited therapy focusing only on painful adductors insertions to pubic rami is not effective. 
For the treatment of adductor muscle-associated groin complaints, both procedures form a central component of the treatment in order to ensure the best short-term success. This also enables the targeted treatment of deep-seated myofascial trigger points of the pectineus muscle and the surrounding adductor muscles after sonographic and palpatory localization, thus effectively reducing muscle tone after just a few treatments in the medium term. With this treatment, the irritated periosteal bone symphysis complex can be relieved at an early stage in the therapy in order to be able to begin early with functional stabilization in the trunk and pelvic area. In contrast to dry needling, in which the target region is defined by localization and penetration depth, the penetration depth of the shock waves can be adjusted by varying the applicator diameter and energy (radial shock wave), as well as by using an appropriate forward path (focused shock wave). This should be observed in order to reach deeper muscle layers close to the pelvis, such as the pectineus muscle, safely and systematically. 
A combination of a radial and a focused shock waves have also proven to be successful, as this allows the highly effective width effect of the radial shock wave to be combined with the pinpoint effect and high penetration depth of the focused shock wave. This can take place directly in the temporal sequence, e. g. with a therapist accompanied by a doctor on site or in consultation, but also with a temporal offset.
In conclusion, early use of local muscle tone lowering techniques, such as dry needling and shock waves, combined with a targeted active training program (abdominal muscle training in a position close to full extension) have proven to be one of many possible treatment methods of frequent and recurrent groin disorders in football players. 
Obtain even better therapeutic results with clinically proven methods: Guided DolorClast®️ Therapy - your holistic solution for musculoskeletal pain therapy!
Download our e-books on radial and focused shock waves therapy and discover the potential of non-invasive treatment methods!
Related products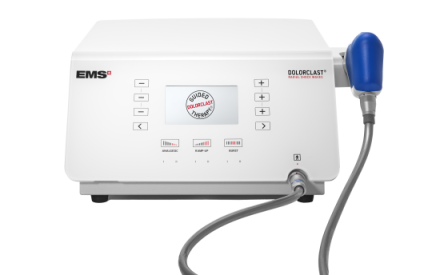 To address superficial sub-acute or chronic musculoskeletal pathologies