Swiss DolorClast® Power+ Handpiece
The highest energy flux density.
Image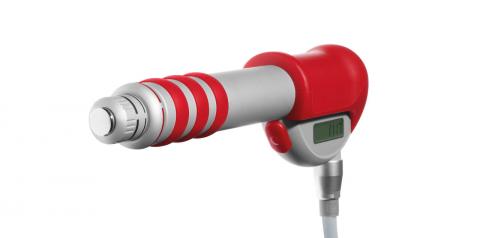 A modified design, an adjusted travel distance, the size of projectile and new applicators account for higher energy flux density.
Easy to use and compatible with all Swiss DolorClast® models.
The smart and economical way to treat a full range of Shock Wave applications.
Product features
Highest energy density from the market: treat pathologies such as arthroses
The ultimate handpiece with its 5 applicators in standard
The Power+ handpiece extends the range of applications due to higher energy and greater depth of penetration.
Technical features
Ballistic radial shockwave therapy handpiece
1 - 20 Hz (varies depending on unit configuration)
Sign in and get access to technical details
Create your EMS account to enjoy exclusive benefits like product configurations, scientific studies, and to register your device.
Tutorial videos
on product pages
Technical details
on product pages
Warranty and support
information